Glide Bikes in the News
First US Made Balance Bikes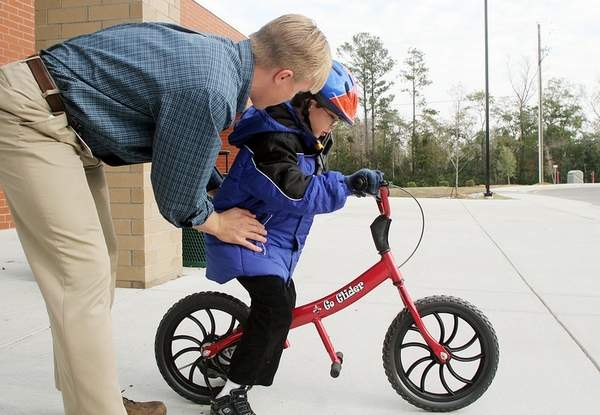 Published: Monday, November 24, 2008 at 7:24 a.m.
Last Modified: Monday, November 24, 2008 at 4:21 p.m.
Ed Mondello would watch his young children buckle under the weight of heavy bicycles and think, "There's got to be a better way."
At a convention, he saw the better way: German-engineered wooden bikes without pedals that were lighter and easier for children to balance on.
Still, it wasn't quite right.
While living in Massachusetts running an IT business, Mondello put his own engineering expertise to work and tinkered with PVC pipes to create a truly light, two-wheeled cycle that would teach children how to ride safely.
"We worked with that design until we got it right," he said. He adjusted the angle on the handlebars and the seat, he added pegs on which to rest feet and kept testing it with his then 18-month-old son.
When people saw the toddler balancing on Mondello's creation, they would invariably tell him, "You gotta do something with this."
Four years later, he's relocated to Wilmington to start a company to make and sell the bikes he called PV Gliders. He has patented aspects of the glider and says he is close to sealing a deal with Toys "R" Us to sell several products in the line.
Additionally, what Mondello describes as his "selfish" invention has turned into a useful tool for families with children with disabilities who find it even more difficult to navigate the two-wheel world than other children do.
Rob Mellis, a local dentist, has high praise for the Glider. Mondello gave him one for his son, now 3, who had a brain attack earlier this year and was left with paralysis.
"We've been able to use it for balance and control," Mellis said. "Stroke victims can't pedal, so this is just a good tool to learn balance and independence."
Mellis said he likes that the Glider is not motorized and is less intimidating than other walking devices his son was scared to try.
"It's a neat, neat, neat, neat toy," Mellis said. "It's a neat toy for any kid, something alternative to a bike."
At Ogden Elementary School, physical therapist David Murray uses the Glider with children who have Down syndrome, cerebral palsy and other developmental delays.
Murray said he started experimenting with using the bikes after Mondello donated them.
"It gave (the students) the opportunity to expand on some of their skills, like balance," he said.
"It can be a challenging task for them. They may be hesitant," Murray said. "There's a cognitive aspect to it, where they need to move a little faster so they can put their feet on the pegs.
"It's been a good experience," Murray said.
"We've gotten really good reports back," Mondello said. "The whole purpose is to help (children) to develop those skills of balance and movement."
Children who don't learn how to ride a bike easily seem to do very well on the Glider, Mondello said. Some parents ready to give up on bicycles try the Glider, and they "are just amazed. It bridges the gap."
Until this year, Mondello and people he hired made the Gliders by hand. Now the bikes are being manufactured overseas because last year demand grew to the point that the crew could not keep up with production.
There are new models this year - the Mini Glider for the 2 1/2- to 5-year-old set and the Go Glider for children ages 6 to 9. Manufacturing changes, including the use of alloy materials, have made the Mini Glider even lighter. It now weighs 8 pounds instead of the original 10. Children's bikes generally weigh 18 to 22 pounds, Mondello said.
The EZee Glider is the name Mondello is giving an adult version of the bike he's working on, for people recovering from injuries or surgery who are looking for a way to improve their balance.
Mondello explained that the gliders are easier to balance because they are designed more like a mountain bike. A road bicycle is designed at an angle to allow for quick movement, while a mountain bike is made to turn more slowly and has a lower center of balance.
His children, now ages 5 and 8, still enjoy riding their Gliders, even though they have their own traditional bikes. Mondello expects to sell hundreds of Gliders this year if the sluggish economy doesn't hit his business too harshly.
"It's going to be an interesting Christmas," Mondello said.
Interview At the Factory Wilmington NC 06/27/2007
First US Made Balance Bikes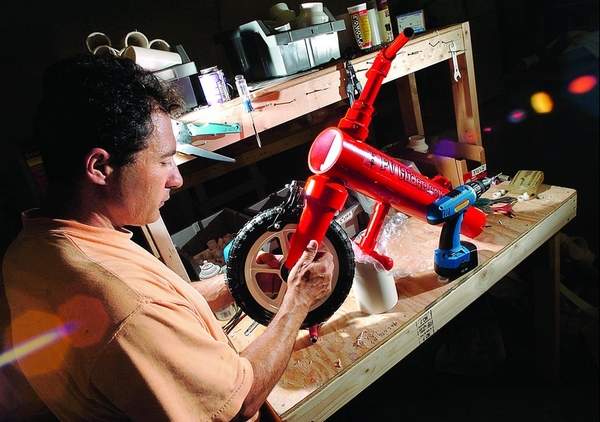 Reprinted from The Star News
Link to article here
New types of bikes for tykes

By Paul Stephen
Staff Photographer
paul.stephen@starnewsonline.com


Ed Mondello isn't out to reinvent the wheel. Just the frame, fork and everything else we've come to know as a bicycle.

Constructed primarily from lightweight PVC tubing, Mondello's creation is a training glider designed to teach the fundamentals of bicycle riding to children as young as 2 1/2 to 3 years old.

"Learning a bike is a huge milestone in a child's life," he says. "I've eliminated the whole training wheel process."

With a background in high-tech computer systems and robotics, Mondello naturally gravitated toward building a better bike as his children reached two-wheeling age. A self-described simplifier, he began looking for a way to make learning balance safer and more enjoyable for both kids and adults.

"I got into it for my own children," he says. "The neighbors saw it and said I had to patent it."

Drawn by Wilmington's much lower cost of living, Mondello sold his Boston-based computer business to generate the funds necessary to relocate. Having sold about 200 bikes since starting up last October, demand far exceeds his ability to produce.

"We're never ahead," he says while assembling a hand brake. "Between dealing with part vendors and orders, this is a full-time endeavor."

Reduced to only the critical components, the PV Glider's secret is an innovative frame angle that places the seat much lower and farther back, making spills and flips nearly impossible. If a user feels he or she is losing control, the rider stands up and releases the handlebars.

"I can't believe how fast the kid got on it and was able to balance," he says about a 3-year-old who recently tried the glider. "To see it happen before your eyes is amazing."

More inventor than self-promoter, Mondello has a way to go before the training wheels can come off of his young company. Hoping to find a reliable employee so he can dedicate more time to expanding into larger-wheeled versions and possible motorized editions, he has no shortage of inspiration.

"This is just the beginning," he says. "I've got so many more ideas."

For a complete description, demonstration videos and ordering information, visit Mondello's Web site at PVGlider.com.

Know someone with an interesting job you think should be featured in "It's a Living"? Call the Star-News photography department at 343-2041 or e-mail paul.stephen@starnewsonline.com

Looking for a Glidebike, Balance Bike or a Bike without Pedals. The Glidebike is the premier Balance Bike on the market. It is a great way for you to teach your child to ride a bike.