The secret is the geometry...
Check out these key features and see why the Glider is The Best Balance Bike For Kids, and better than training wheels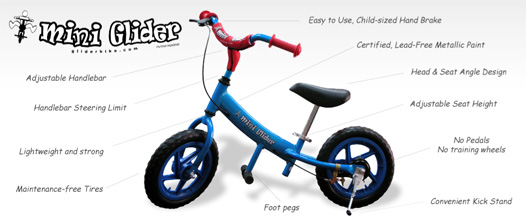 Adjustable seat height enables the parent to adjust the seat so that the child can put both feet flat on the ground. Allowing your child to walk along while seated on the bike, then lifting one foot up on a peg, then placing both feet on the pegs and gliding. Children feel confident because they can place a foot down when or if needed, this allows them to relax and have fun as they master balancing.

Adjustable handlebar height allows a custom fit for children between 2 - 9 years old. Children will get many years of enjoyment because the Glider is designed to grow with them.

Slack head angle Designed around downhill mountain bike Properties. Allowing a slower speed balance point of around 1.5 MPH. Other designs don't start to balance until much faster speeds. This slower more stable design gives kids a longer chance to archive balance before the Glider topples over. This also places the front wheel further in front of the handlebar, making the bike easier to steer and more importantly, making it nearly impossible for your child to go over the handlebars. This design places their weight further back over the rear wheel and their center of balance back and lower. The child feels safe in this position allowing them to confidently explore their balance. When in doubt, the child simply stands up. In our research the number one reason for kids not learning to ride a two wheeler is either a bad fall or the fear of falling. The Glider takes the fear out of learning to balance and is just plain fun.

No pedals - Pedals can make it very difficult for a child to learn how to balance because they can't get their feet off the pedals and on the ground quickly enough and they fall over. It is difficult enough for a child to learn to balance when you also have pedaling and braking to learn at the same time. A set of pedals and chain alone can weigh as much as the Glider!

Foot pegs - Other designs leave them out. We think that's crazy. A child needs pegs to rest their feet while gliding. Some children will even put one foot on the peg and push with the other while they are learning. We've done our research. Pegs in use. Original PV Glider

No training wheels - The key to learning to balance is to learn what to do when the bike leans to either side. Training wheels do not allow the bike to lean and so kids never learn what this feels like. In a turn this inability to lean can cause the bike to fall over instead which is unsafe. As a result, the average time a child spends on training wheels is two to three years. With the Glider, kids learn to balance right off the bat. Some kids are riding a bike within a day, a week or month. One thing is for sure, they all have fun and keep Gliding even after they learn to balance. Just read what parents have to say! Testimonials. Consumer Reviews

Lightweight and strong - Who wants to lug around a heavy steel bike, especially a small child. The Glider is made out of rustproof 6061 Alloy so it is light and durable and designed to last for years. There's nothing to rust, not even a chain. Left out in the rain? No problem!

Steering Limit. After extensive testing we included this feature. The steering limit or prevents the child from being hit in the chest or head. This feature also prevent the brake cable from becoming twisted. The Glider steering limiterdoes not prevent a full turning radius nor does it hinder a child from graduating to a traditional bicycle.

Sizing: Most kids pants size can be used as a general guide. For example size 2T-5 will fit the Mini Glider. For the Go Glider Size 5-10 will be the range. If your child has just started wearing size 5 and has an inseam of 19" or less the Mini Glider will fit best. Your child's inseam should be a minimum of 12" to fit the Mini Glider 12" model. The 16" GO GLIDER has a minimum inseam of 17.5". There should be a minimum of 1-2" of clearance between the seat and crotch to ensure a good fit. To measure your child's inseam, have him stand up straight with his legs slightly apart. Using measuring tape, measure from his crotch to the floor. Record the length in inches; this is his riding inseam. See the sizing link for more info.

Note: Your child should always wear a helmet. This is the most important safety feature of all.
Your child's inseam should be a minimum of 12" to Fit the MINI GLIDER. The seat will adjust up 18.5". The 16" GO GLIDER model has a range of 17.5"-23". To measure your child's inseam, have him stand up straight with his legs slightly apart.

Using measuring tape, measure from your childs crotch to the floor. Record the length in inches; this is the inseam.

The best fit will allow the child to place their feet flat on the ground with a 25-35 degree bend (see picture) in the knee when seated. A bike too large does not promote learning. Call for assistance if you have questions.
Looking for a Glidebike, Balance Bike or a Bike without Pedals. The Glidebike is the premier Balance Bike on the market. It is a great way for you to teach your child to ride a bike.