Teach kids to ride with NO TRAINING WHEELS! New 2010 Mini Gliders are here Lower seat height lower handle bars and kickstand Now Free ground Shipping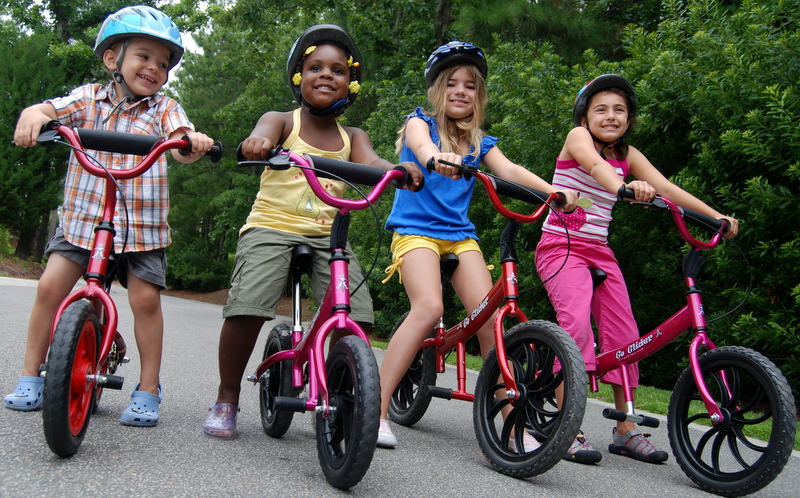 Now available in Hot Pink! When it comes to balance bikes there is no comparison to the Mini Glider's quality and engineering. Our product, unmatched by other designs, includes:

• High quality ball bearing headset for smoother steering and longer life with stearing limiter.

• Adjustable Alloy Mountain Bike style handlebars for a more upright ergonomic seating position that grows with your child 3 " of adjustment.

• Alloy quick release seat clamp for tool-less seat adjustments.

• Engineered ergonomic seat to ensure ride comfort and proper posture low 12" stand over..

• Now includes Kick Stand for easy parking, just like a grown up bike!

• Air-free EVA foam tires -- say goodbye to flats and pumping up tires!

Without question this is a very high quality product that will last. Designed in the USA after our handmade PV Glider, made more affordable overseas out of High Quality Alloy, the Mini Glider weighs only 8lbs. Finished off in durable colorful metallic paint the Mini Glider will have your jaw drop as your child rides with confidence.



For bigger kids...Introducing the new 16" wheel glider. Designed for kids aged 6 to 9 years old who have an inseam of at least 18 ". Also great for kids with learning disabilities. See Them In Action!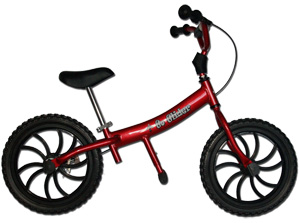 The Glide Bikesr are the fastest, easiest, and SAFEST way to teach your child how to ride a bike. Say goodbye to training wheels! Balance Bikes For Kids.
Looking for a Glidebike, Balance Bike or a Bike without Pedals. The Glidebike is the premier Balance Bike on the market. It is a great way for you to teach your child to ride a bike.